New York Premiere of
A Song For Ourselves
Friday, March 27th at 7pm Manhattan Country School 7 East 96th Street (Between Madison & 5th Ave.) New York, NY 10128
(
tickets sold out
)
i'm really excited about this weeks new york premiere.  not only is it the first screening in chris iijima's hometown, but its also happening at place that meant a lot to chris and his family,
manhattan country school
.  m.c.s. where chris spent many years (1975-85) as a teacher, the place where he met his wife jane (who was also a teacher at the school) and where his sister lynne currently works. here's chris with his 6th grade class at m.c.s. back in '82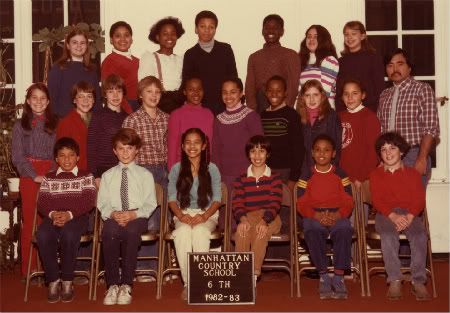 akemi kochiyama (front row, middle) now works for m.c.s and is one of the main organizers of the friday's event!
all proceeds of the screening will go to
the chris iijima fund
, an endowment fund to support the unique sliding scale tuition policy that makes m.c.s. accessible to more students.